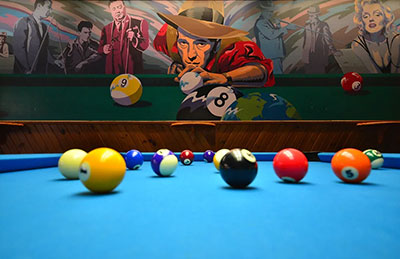 Bison Billiards is Western New York's premier billiards hall and bar. We offer twenty one quality pool tables, including ten Diamond bar boxes, eight Diamond 9′ tables, a bumper table, a heated Gabriel carom three-cushion table and a 6'x12′ Snooker table. Not only do we have the best name brands in equipment with Diamond, Gabriels, Simonis , we offer over 200 pool cues and cases for sale or rent, as well as a full service pro shop. We also offer over thirty types of beer and wine with a lunch and dinner menu. Group discounts available.
Birthdays and Special Occasions
What a great way to pull off a surprise birthday. We can offer the pool, music, darts, food, and drinks for as little as $20.00 per person. And the best is, we clean up. We can accommodate, with proper notice, any day or evening and will be happy to assist you with your special requests. Call us for details.
Christmas and Holiday Parties
With the Holidays right around the corner, now's the time to plan. What a great way for your company to host that Holiday party without breaking the bank. We can arrange a company tournament with prize money or a team event that can put the sales staff up against the warehouse crew. It can create unity within your organization and the benefits will be realized by all! Call Mike Shriver at 716.632.0281 now to reserve your date
Corporate Team Building and/or Leagues 
Looking for a way to boost morale, develop a team, unite departments, or just make your company a better place to work? Many top companies send employees white water rafting, skydiving, race car schools, and many other very expensive to develop team work, create unity, and ultimately increase productivity. For the average small business owner in our area, especially in this economy, those aren't feasible options but ignoring the need for such events isn't an option either. We can offer food, drinks, music, and great competition in a great facility with the best equipment available. Call Mike to discuss your event at 716.632.0281.
Table Repair and Cue Work
Do you have an old table in your basement that needs to be recovered after all those years? Do you have something wrong with your cherished cue? Stop in or call Mike Sr. at Bison Billiards to discuss your options. We can recover any pool table, big or small, within the Erie County area. We also replace tips,
ferrules, and do shaft work in house. We've also partnered with several custom cue makers across the country for larger repairs and custom cues.